Dr Akash Kota B.D.S. (Otago)
Principal dentist & Owner
Email hello@novosmiles.co.nz
I graduated from the University of Otago in December 2015 with a Bachelor of Dental Surgery (BDS) and a Bachelor of Biomedical Science (BBiomedSc). I was thrilled to be extended an offer to join the team at Masterton Dental.
The most rewarding part of being a dentist is getting to know all my patients well and ensuring they are at ease during their visits. Providing same-day smile makeovers and full mouth reconstructions are amongst my favourite cases.
I am incredibly passionate about dentistry and am keeping up with courses nationally and internationally, this empowers me to keep abreast with the new technologies and emerging techniques. My current education includes studying towards post-graduate qualifications in Orthodontics and Dental Implantology. I have attended residency programmes and courses in Prosthodontics, Cosmetic Dentistry and Practise Management systems.
I am proud to be a member of the following organisations and study groups: NZ Dental association (NZDA), NZ Sedation Dentistry (NZSSD), NZ Dental council (NZDC), International Team Implantology (ITI).
In my spare time I am a car and aviation enthusiast. I have completed part of my private pilot's licence. I love travelling overseas and where possible I enjoy volunteering in dentistry. I have been privileged to assist in Samoa and Cambodia and aim to assist in more countries overtime.
Dr Margaret Clark
Dental Surgeon
Email hello@novosmiles.co.nz
After graduating from the University of Otago with a Bachelor's in Dental Surgery, I moved to Wellington to enjoy the benefits of 'city living' while being closer to my family in Blenheim.
I have always been a people-person, and dentistry allows me to put those skills to good use. For me, meeting new patients and getting to know each other is one of the most rewarding aspects of the job. Visiting the dentist doesn't need to be daunting and I believe everybody deserves to have a good experience – which is why ensuring my patients are at ease is paramount to me.
Beginning my career in community dentistry aligned with my belief that everyone deserves a healthy mouth that they feel confident in- working in a primary health organisation, as well as previously doing volunteer dental work in Cambodia. I am now expanding on these clinical skills further working alongside Dr. Akash.
I am thrilled to be joining the team at Novo Smiles for 2021, the modern facilities and technologies allow for patients to receive the smile of their dreams in a more comfortable and painless style of dentistry.
As well as being associated with the New Zealand Dental Council (NZDC) and New Zealand Dental Association (NZDA), I am also the newest appointed member on the executive committee for Te Ao Mārama (NZ Māori Dental Association).
When I'm not at work you can normally find me with friends or family exploring all that the city has to offer. I am always on the lookout for a great new beach, event or coffee shop to test out!
Dr Ishani Sukumaran B.D.S. (Otago)
Dental Surgeon
I am a 2019 Bachelor of Dental Surgery graduate from the University of Otago. I am very thrilled to be joining the team at Novo Smiles in this vibrant city. I am passionate about being at the forefront of modern dentistry in order to provide only the best care for my patients.
I hope to spend my career improving my patients' oral health while creating positive and pleasant dental experiences. I enjoy providing a wide range of comprehensive dental care while continuing to expand my skills and knowledge with modern research.
My bucket list is filled with travel to a multitude of cities alongside the Great Walks of NZ. I also enjoy swimming, biking, reading and getting stuck into a good crime show.
Tessa Chirayath (BDS, University of Otago, 2019)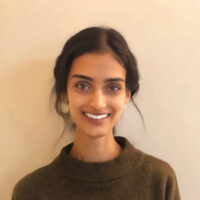 Dental Surgeon
I recently joined Novo Smiles having previously Capital & Coast DHB across Wellington and Kenepuru Hospitals. I gained valuable experience seeing patients with trauma, complex medical conditions, and oral surgery demands and working alongside the Oral & Maxillofacial Surgeons.
During this time, I undertook research and completed the Royal Australasian College of Dental Surgeons (RACDS) Primary Examinations, which has given me a greater passion for continued learning and development.
I am passionate about creating a positive dental experience for my patients, guiding them through their journey of dental treatment from the beginning to achieve a successful outcome. Of utmost importance to me is a collaborative approach to care and helping patients to improve their oral health and be proud of their smiles.
I hope to continue to further my knowledge and skills through learning and professional development and give back to the community through dental volunteering and oral health promotion.
Outside of dentistry, my favourite activities include cooking, baking and hosting dinner parties for family and friends, keeping active, enjoying a book in the sunshine and finding the best local coffee and brunch spots!